6 Exotic Villas In Bangalore That Offer The Most Luxurious Experience In 2021
Bangalore, the capital of Karnataka is known for two things, its IT industry and beautiful botanical gardens, which is why it is called the Silicon Valley as well as the Garden City of India. One of its major attractions is Kabban Park, a 120-hectare park located near Vidhan Saudha. One of the other popular tourist attractions in Bangalore is the fort and palace of Tipu Sultan. When one has many beautiful and great options to choose from for a Bangalore vacation, but if one wants to have a truly memorable experience, then one should look for a holiday option in a villa in Bangalore, which is suitable for large groups and families.
6 Top Villas In Bangalore
1. The Tamarind Tree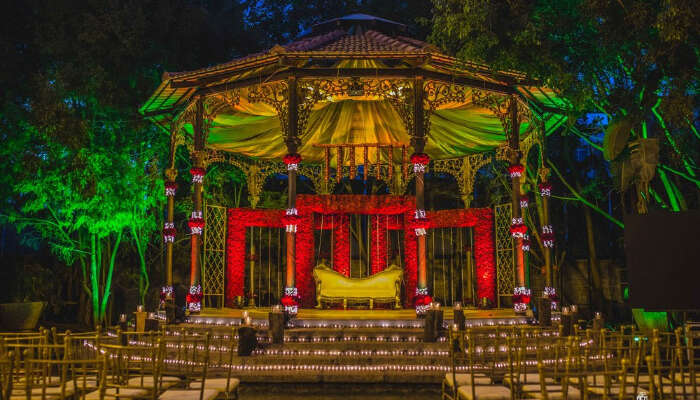 A 35-year-old heritage property, tamarind tree villa is one of the most beautiful and beauty villas in Bangalore, with a beautiful garden spread over 5 acres. After a private residence, the villa is now available for special occasions and for rent with a private family. It has four splendid rooms with heritage, sky bath, verandah with lotus ponds and a huge and unique collection of art and antiques that you can admire. The tamarind tree has two huge kitchens to prepare and serve the best dishes from India and around the world. It has a well-designed bar, named Sheesh Mahal, which is a great area to entertain your family and friends.
Amenities Provided: In-house Dining, Nature Walk, Open Spaces, Wi-Fi, Housekeeping .cc Commodate: 10 - 12 Paxroom: 4 Bedrooms, 4 Bathrooms: Rs. 49,000 / - per night for the entire villa. The villa is also available for weddings and private events, for which pricing is available upon request. RTI: 5 StarAddress: The Tamarind Tree, Avalahalli Main Road, Bengaluru, Karnataka, India
2. Redstone Villa & Suites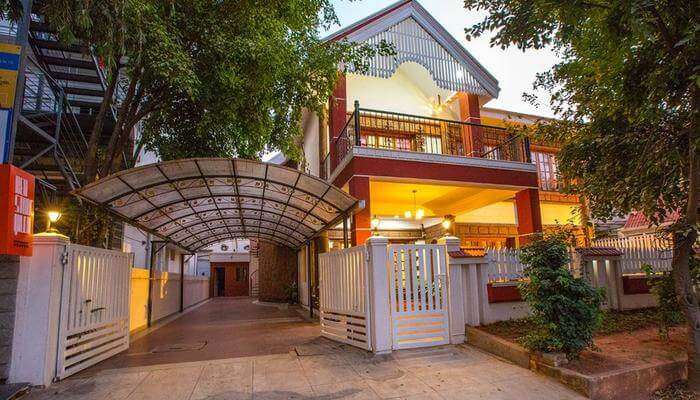 The Redstone Villa gets its charismatic name from the red stone used to construct the villa, which was brought exclusively from the coastal region of Karnataka, making it one of the unique villas in Bangalore. Each room of the villa is individually designed based on contemporary style. Villa options ranging from a fully equipped suite to standard family rooms with all the latest amenities and high-quality furnishings and fixtures. All rooms are well ventilated, spacious and full of natural light sources. The villa is conveniently located in the HSR layout, and is easily accessible near malls and key areas.
Amenities Offered: In-house Dining, Free Wi-Fi, Air Conditioning, Free Toiletries, and High-Quality Linen, Housekeeping .cc Commits: 14 - 20 paxRooms: 7 Individual RoomsPolice: Rs. 2,000 / - + per night per room. Petting: 4 starsNext: # 84, 16th Cross, 14th Main, Sector 4 HSR Layout, Bangalore - 560102
3. Calista Jia

If you are looking for a luxury holiday villa in Bangalore, Calista Jia in Bangalore is the answer. This 3 bedroom villa is built on half an acre of land. This posh villa also has a swimming pool for guests to use and has an interior that is very elegantly designed in the Balinese architectural style. The villa has wooden furnishings, giving it a very rustic look and feel that it will definitely impress you and your guests. While staying in its rooms, a very beautiful panoramic view of the Nandi Hills can also be seen from the villa. The villa is well ventilated and lit, thanks to its specially designed large wooden doors and frameless windows.
Amenities offered: In-house dining, free Wi-Fi, air conditioning, free toiletries, BBQ and bonfire facility, private swimming pool, outdoor dining area, housekeeping, and laundry. 25,000 / - per night for the villa including breakfast and free Wi-Fi. Additional charges for lunch and dinner can be arranged.
4. Tranquil Woods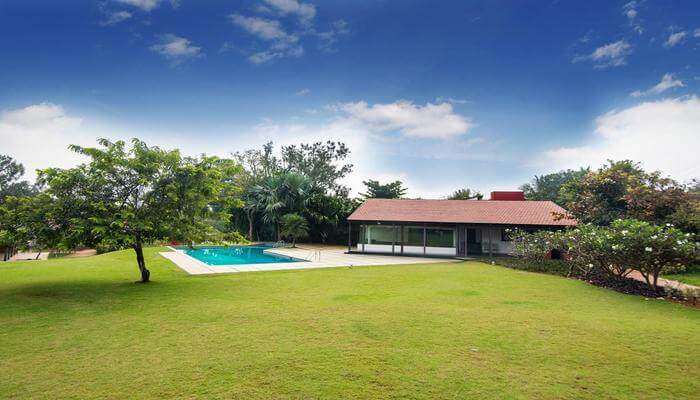 One of the most peaceful and luxurious villas in Bangalore, Tranquil Woods is situated within a farmhouse. It is the perfect holiday for those looking to spend a holiday without compromise in terms of quality and offerings. It is well suited for large groups and families and provides privacy, connectivity and complete security for all its guests. All the rooms in the villa have been designed in the modern style with the latest amenities and facilities to make life comfortable for the guests. The villa is made up of about 50,000 square feet of greenery, giving it a very natural picturesque look that will be appreciated by your family and guests.
Facilities provided: In-house dining, free Wi-Fi, air conditioning, free toiletries, BBQ and bonfire facility, private swimming pool, outdoor dining area, security, movie watching, live entertainment, kids play area, power backup, housekeeping , And Laundry. Space: Up to 30 Paxoms: Two Large Bedrooms, Living Room Natural: Rs. 30,000 / - per night for the villa Rs. Amounts: 5 starsNext: 76, Phase II, Royal Enclave, Srirampura, Bengaluru - 64
5. Jade 735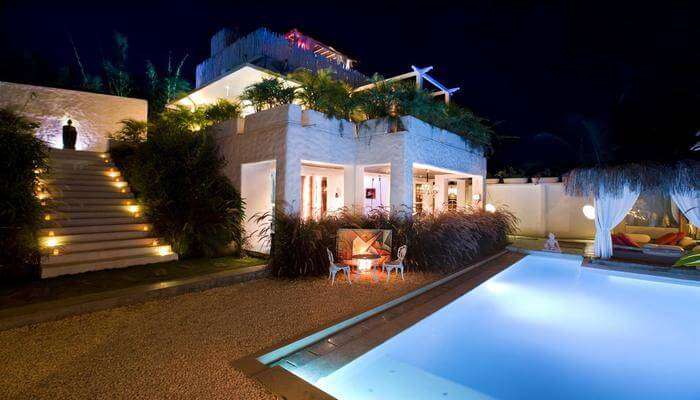 A luxurious villa, the Z735 feels more like a resort than a standalone villa. It is one of the most happening villas in Bangalore with many events and parties held regularly. Each of its rooms is custom designed based on a designer theme and offers all the most modern amenities for a comfortable stay. The villa has separate lounge areas for gate-wearers and spend quality time with their family and friends. The villa has lots of water bodies, natural gardens, gazebos, a gym / yoga hall and even a botanical garden that you can use. It also has a beautiful ten feet, a waterfall that takes you to the swimming pool for a refreshing experience.
Amenities Provided: In-house Dining, Free Wi-Fi, Air Conditioning, Free Toiletries, BBQ & Bonfire Facility, Private Swimming Pool, Outdoor Dining Area, Security, Separate Dining Space & Kitchen. 5 guest bedrooms, 3 dining places. 35,000 / - + (2 - 5 pax) per night for the villa, Rs. 45,000 / - + (6 - 10 pax) per night for the villa, additional pax Rs. 4,500 / - per pack. Tariff includes use of sound and light facilities for food and entertainment. Ritings: 5 stars
6. Legacy Villa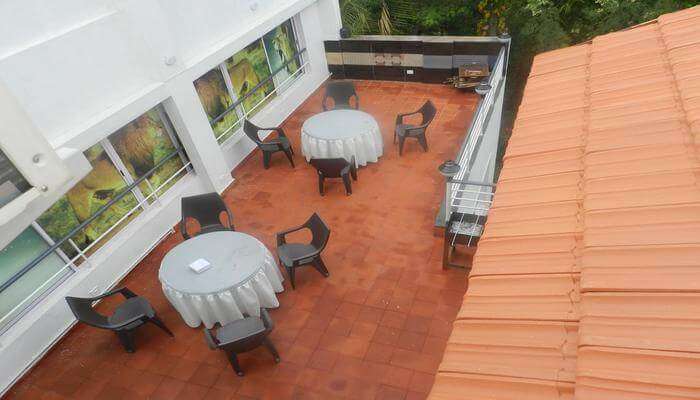 Located very close to the Bangalore International Exhibition Center, Legacy Villas in Bangalore is a very convenient place to stay for corporate groups as well as families who are on vacation in Bangalore. It offers a very quiet stay from the stress and noise of city life, giving guests a great opportunity to relax and refresh themselves. The villa has well-designed rooms with all the standard amenities and facilities that will make your stay comfortable and enjoyable. It is a good food option both within the complex and even outside the villa, if one wishes to dine outside.
Facilities provided: In-house 24-hour dining, free Wi-Fi, air conditioning, free toiletries, private swimming pool, security and housekeeping, meeting facilities, free parking. AccODates: Up to 10 - 15 paxRooms: 5 Guest Bedrooms: Rs. 15,000 / - + per night for the entire villa: 10 Matriashree Layout, Shivashakti Nagar, Anachepalya, Near Prestige Jindal, Tumkur Road, Thothada Guddahalli, Bangalore before Nees, Bangalore.
If one wants to experience luxury living one should try Villas in Bangalore, which are very comfortable to stay in and offer all the latest amenities and amenities to make your stay comfortable. Some villas in Bangalore even provide you with your own private swimming pool during your stay. So, plan your long trip to Karnataka and have fun!
Frequently Asked Questions About Villas In Bangalore
Q. There are different options available to stay during vacation in Bangalore?
A. Hotels, self-serviced apartments, resorts, homestays and private villas in Bangalore have few options for staying during a vacation.
Q. What language is used in Bangalore?
A. Kannada is the regional language of Bangalore. English and Hindi are languages ​​that are also commonly used in Bangalore.
Q. What are the common facilities provided by holiday villas in Bangalore?
A. Most holiday villas in Bangalore provide housekeeping, security and laundry facilities in Bangalore. Some villas offer free Wi-Fi, 24-hour dining, private swimming pools, and recreational facilities.
Q. Where can one go for shopping in Bangalore?
A. Bangalore has a lot of malls of which one can go shopping. Some of the famous malls in Bangalore are VR Mall, UB City Mall, Phoenix City, Forum Mall, Innerbit Mall, Bangalore Central and Orion Mall. Apart from the mall, one can shop along Richmond Road at Brigade Road and MG Road.
Q. Which food is Bangalore famous for?
A. Bisibel bath is one of the most famous dishes in Bangalore. Apart from this, one can also try a variety of South Indian cuisines such as Dosa, Idli and Medu Vada in Bangalore. MTR and Adiga are the two most popular restaurant chains in Bangalore, who can enjoy local cuisine.