8 Things To do In Goa For A Happening Vacation
Worked hard in 2020 and could not make a comeback? When all your friends went away on those three and four day weekends this year, were you still working from home? Do you need a hard break before falling under the curtain? Do not think anymore. Now is the time to cash in on yourself and go on vacation that you have been watching all year. Dig into this easy thing to do in Goa, which will help you find out the best of the sunshine conditions. We know you have a party on your mind! 8 things to do in Goa for a holiday.
Thus, from the above discussion, it can be said that Goa has a lot of outdoor and indoor things that anyone can do. The place is full of adventure and you certainly will not be disappointed to offer it as activities, wine tasting, food, and more.
Things To Do In Goa
1. Watersports
From amateur enthusiasts to skilled aquafiles, the blue waters of Goa offer innumerable options. Indulge in pleasant water activities at Baga, Candolim, Vagator and Anjuna beaches in Goa. Travelers can choose from a wide range of sports such as scuba diving, parasailing, jet ski, windsurfing, wakeboarding, snorkeling, and kayaking.
2. Sunbathing
A beach trip in Goa is one of the definite activities. Soak the sun on the beach on these palm ridges and cash in on a well-deserved holiday. After all, you are on holiday in Goa. Take as much sunlight as you can and go swimming in the sea. Goa has many beaches. Let's see how much you can cover.
Best beaches in North Goa: Baga, Candolim, Vagator, Anjuna, Calangute
Best beaches in South Goa: Colva, Agonda, Betul, Butterfly, Palolem
3. Cycling – Chorao Island
Explore forest trails on two wheels as you crack through beautiful fields of golden grass and beautiful coconut trees. Among the best things to do in Goa, cycling on Chorao Island will also help you relax and gain perspective. Remember Alia Bhatt riding a cycle with Shahrukh Khan in Dear Zindagi? Those who are avid bikers will surely enjoy this experience.
4.'Silent Noise' Party
One of the quietest things in Goa is attending a silent noise party in Palolem, Goa. You don't have to worry about the sound restriction after 10 o'clock at night, the headphones maintain your movement throughout the night, without disturbing anyone. Therefore, party as much as you want to be conscious of the environment and the people around you. It is a unique experience for the party, nonetheless.
5. Club Hopping
There is one thing about nightlife in Goa - it does not disappoint you. For each Glitzy club that has been shut down, there are five other people in line waiting to replace it. Given below is a list of the best nightclubs, which is definitely a must visit in Goa.
A. LPK – Love Passion Karma
Location: Nerul, Candolim
Hours: 9:30 pm – 3:30 am
USP: Cheap alcohol, pulsating music, and the terracotta interiors
B. Club Cubana – Nightclub In The Sky
Location: Arpora Hill, North Goa
Hours: 9:30 pm – 4:00 am
USP: Multi-leveled dance floor and bars, Jacuzzi – enough said!
C. SinQ – For An Exclusive Party In Town
Location: Aguada Road, Candolim
Hours: 10:00 pm – 2:00 am
USP: Private party suites, Renowned DJs
6. Mandovi River Cruise
Among the offbeat things to do in Goa, Mandovi River Cruise offers a unique coastal Goa experience. The two-hour long sunset cruise also includes an entertainment show and dinner. Anyone can choose to stay overnight. All cruises take place next to the Mandovi bridge from the Santa Monica Ghat.
7. Dudhsagar Falls
December is the time when the Dudhsagar Falls falls horribly in its full form and gives quite a stunning performance. It is located inside Mollem National Park. So, if you have any kind of travel plan on your itinerary, you should not miss the fall. You can even go to the Fall to add thrill to your experience. It is one of the most amazing attractions of Goa. If you fell last time, make sure you cross them with your bucket list this time.
8. Hot Air Balloon Ride
For an aerial view of the sea and its edges, hop on a hot air balloon in Goa. The feeling of elevating your feet to 2,500 feet can only occur in a hot air balloon. It is not only the ride that gives you an incredible experience, but you also get a chance to help employees with balloon inflation. Why go to Turkey when you can enjoy this experience in Goa, but the scenery will be different.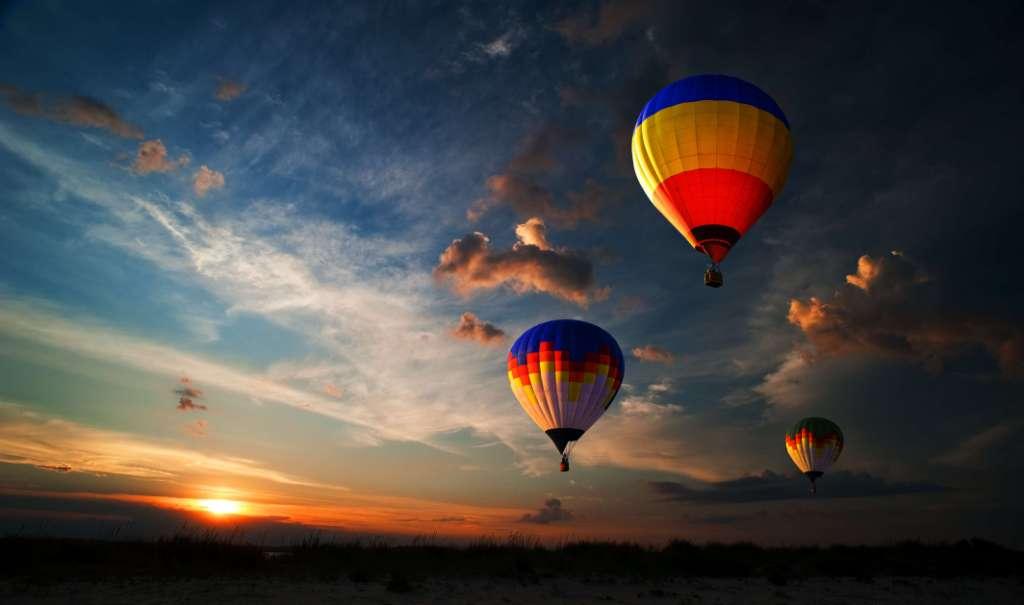 Check out Below video !!