Abu Dhabi – A Quick and Handy Travel Guide
A traditional version of its glitzier cousin, Dubai, Abu Dhabi presents a striking blend of tradition and modernity. Abu Dhabi, the capital of the United Arab Emirates, is the largest city in the Emirate of Abu Dhabi and, incidentally, one of the most modern cities in the world. What you should not miss here on Abu Dhabi trip.
See:
Sheikh Zayed Grand Mosque

Seated prominently at the entrance of the island of Abu Dhabi City, Sheikh Zayed Grand Mosque is a famous site, which displays a mixture of Maluk, Turk and Fatim styles. Inside the grand mosque, which is non-Muslim to visit all areas, is large enough to accommodate 40,000 worshipers, and boasts the world's largest carpet and chandelier.

Visiting hours: 9 am to 10 pm. (Saturday to Thursday) 4.00 pm. 10.00 pm (Friday)
Heritage Village
Considered one of the most popular cultural and family attractions in Abu Dhabi, the village is a reconstruction of a wealthy village, showcasing the Bedouin lifestyle from the distant past. Get a glimpse of the desert lifestyle, complete with campfires, pots, camels, horses, goats and fallow irrigation systems. To add to the entertainment, many artisans showcase their skills and wares, such as spinning, weaving, metalwork pottery, and glass blowing. Most artisans allow visitors to participate in their artistry as well.
Saadiyat Public Beach
The beaches in Abu Dhabi are more about sand and sea. Take a stroll on the immaculate shore of the beach or spend delightful hours with yoga sessions offered there. Go surfing in the blue water or blow the air in your hair while facing the waves. Then head to the beach café to gorge on some delightful snacks and beverages, and enjoy light shopping at retail shopping outlets on the beach. The Sadiat Public Beach Club, with the use of a pool, gym, jacuzzi and plunge pool, is all to add a sense of luxury to it.
Cost of admission to the beach: Dh25 for adults, Dh15 for children (for children under 5) Time to leave: 8 am to sunset.
Cost for admission to the beach club: Dhs150 (for singles), Dhs250 (for couples), Dhs75 juniors (for children between 13 and 17), children 12 and free time to go: 4.00 pm to 10.00 O'clock. (Friday)
Do:
Ferrari World Abu Dhabi Theme Park
Prepare for a high dose of adventure at the Ferrari World Abu Dhabi Theme Park. Go to Formula Rossa, the world's fastest roller coaster, or get behind the go-kart wheel. Formula One fans can then hope for the thrill of a lifetime at the Yas Marina Circuit race track. The behind-the-scenes experience of the wheel-action sees the Aston Martin GT4 zipping through the world's longest straight race track, with a professionally trained driver, or from the comfort of a bus stand. For those who want to get more experience back, the formula is YES 3000. Take the wheels and let the adrenine flow!
Yas Waterworld Abu Dhabi
Head to Yes Waterwold for a bucket load of fun, literally. Built on 15 hectares of land, the water park has a significant number of rides, with at least five one-on-one rides. Splash on the fun quotient with AquaLoop, Rattler, SuperBowl, Inner-TubeSlides, FlowBarrel, Whizzard and SpeedSlides. Or chill at Wavepool, Aquaplay, Aquaspray or Aquaplay Renfort. There are also children's slides
Dune Bashing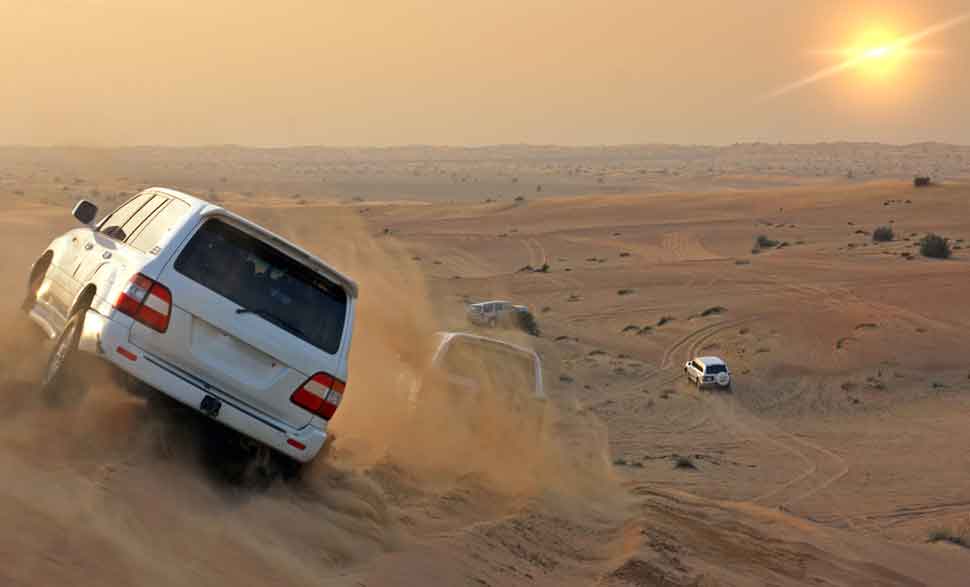 Get in an SUV with a certified desert driver and enjoy a roller coaster ride on sand dunes. Considered one of the top adventure options in the UAE, it is certainly not for the tender at heart - nor for Karsik - as we are talking about some serious rolling and pitching here. But if you're looking for a stomach-churning, heart-stopping adrenaline rush, here it is!
Kayaking in the Mangroves
The kayak is five miles west of Lagoon National Park, an eastern mangrove in an unexplored, wooded area along the East Ring Road in Abu Dhabi. The mangrove forest area of ​​the United Arab Emirates comprises 75 percent of all, unlike the eastern mangrove modernism that you see in the capital city. Home to 50 species of birds including flamingos and about 200 species of black, gray and white herons and fish, this is the place where you can let the nature lover inside you.
Eat:
Meylas

Taste more than just gastronomic flavors of Emirati culture. Meylas is a decoration between traditional hospitality and culture displays that are reminiscent of the 50s. Al Munera, Al Raha Beach + 971 2 444 8884
Mezlai
An old door lock means the table, where you will have to taste a dish with the most taste for eatery dishes. Don't miss the Chicken Maqbus with Spicy Rice and Lamb.
When to go
December to February: This is a good time to travel, although you need to be well covered to cope with the cold air and a strange passing shower.
March to April: Best time to visit Abu Dhabi. The temperature is around 30 ° C.
May to September: Best to avoid temperature, temperature above 45 ° C and humidity 95%.
October to November: Although not the best time to travel to Abu Dhabi, the temperature is still high, it may not be as unbearable as it may be in summer.
Getting there
By air: You can reach Abu Dhabi International Airport. Once there, look for taxis or shuttle buses that take you to Al Zahia. You will find a lot of cab operators in the airport.
Getting around
Bus: The Abu Dhabi City Bus connects with 14 routes through the day. While bus number 5 connects Marina Mall to Al Mariya Island via Al Zahia, bus number 54 runs from Al Zahia to Sekh Zayed Grand Mosque.
Hourly, travel to Yes Island in the free Yes Express bus. Or get your ride in buses of Blue Route, Red Route or Sadiat Route.
Taxis: These are good options for getting around the city from Dhs3.50 to Dhs10. Hail a taxi or order one online. App cabs like Uber and Careem have their own parts in the city.
Bicycles are a popular way to get around in Cornish and Yes Island. Take care to stick to the bicycle track here.