Best Night Clubs In Bangalore To Explore In 2021
Bangalore is a city that strikes a perfect balance between party life and soul searching - the city is great if you want to bang your head all night to EDM as well as it is great if you just want to take a walk in peace with a In the garden.
Bangalore is a rapidly developing city, thanks to its identity as an IT hub. It is also famous for breweries and bakeries. While all of these are attractive enough for travelers like us, the cherry on the cake is that the city of gardens is a hub for a lot of pubs and night clubs and the people there will never be disappointed when it comes to partying and enjoying themselves In Bangalore, don't forget to party at amazing nightclubs when it comes to. Here is a comprehensive list of night clubs in Bangalore where you can party all night and think of throbbing music. For all those music and dance lovers, let your hair loose and tap your feet to some of the most happening dance numbers. At night as you drown yourself down with your favorite drink. Like Mumbai, Delhi and Goa, Bangalore also has an amazing nightlife culture, and most tourists enjoy partying in the IT capital.
Best Night Clubs In Bangalore
Bangalore Having nightlife of Bangalore is one of the most happening events and to experience one, visit the famous nightclubs in Bangalore below.
1. NoLimmits Lounge And Club – Brigade Road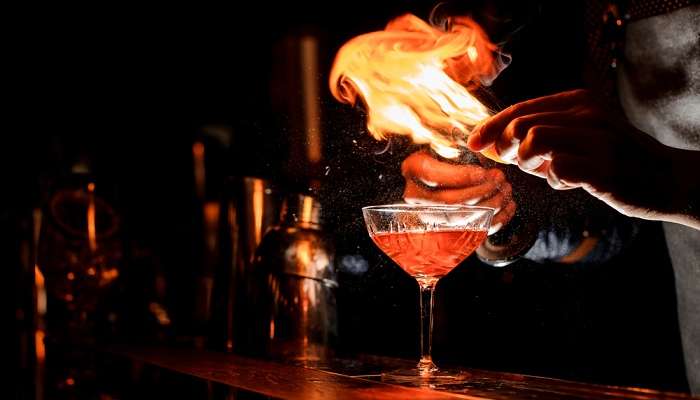 Want to get tips and dance for the latest Bollywood music at a nightclub in Bangalore with full night price! Just take a gang of your friends and step out to the NoLimmits Lounge and Club. To your heart's content, and once done, simply spread yourself on a comfortable cushion with a cocktail with delicious sugar or any other drink of your choice. Continental, and North-Indian cuisine.
Location: 8, 2nd floor, Allied Grand Plaza, diagonally Garuda Mall, Magrath Road, Brigade Road
Timings: 11 am - 11:30 pm (11 am - 11 pm on Fridays and Saturdays) Cost:. 2,000 for two
2. Skyye – Vittal Mallya Road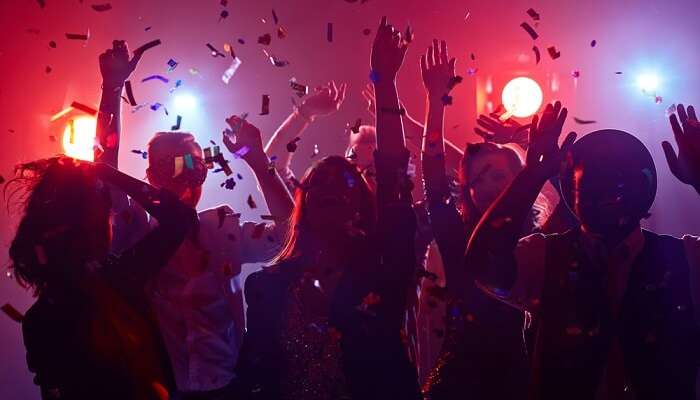 UB city is considered one of the most crowded malls in Bangalore, and we think this mall becomes all the cooler due to the presence of Sky Lounge. It is one of the best nightclubs in Bangalore. If you are in Bangalore and you have not visited this lounge, then you are definitely missing out. The Lit dance floor, under DJ, and the composition of Sky Lions is a distinct class. Try their drinks along with some drink and food while enjoying the lovely skyline view of the city.
Location: 16th Floor, UB City, Vittal Mallya Road
Timings: 5:30 pm to 11 pm (1 pm on Fridays and Saturdays) Cost: INR 3000 for two
3. The Byg Brewsky – Sarjapur Road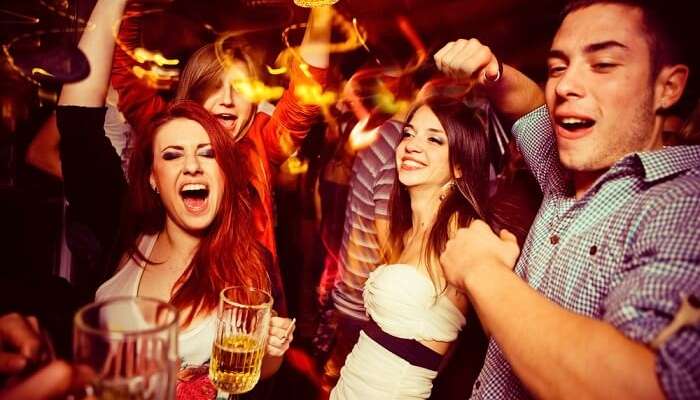 You can't be a party freak and quit partying at Byg Brewsky! Countless people have danced their way through memories at Dance Nights at this club. Biag Browski has a perfect atmosphere, mood-lighting, and catchy songs. Apart from this, there is also a koi pond near which you can just sit and enjoy your drink (preferably handcrafted beer) and food in peace. What else can we possibly ask for
Location: Sarjapur Road and Hennur
Time: 12:30 pm to 1 pm: INR 1800 for two
4. Ice Bar And Teppanyaki – MG Road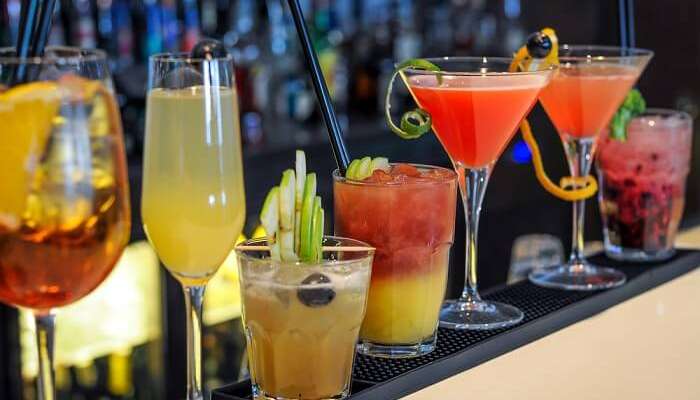 This club of Bangalore has included it in our list because if the clock is ticking on your time in Bangalore, then there is nothing else other than snow that you should spend your night with. The continental setting of the place adds to the nightly sophistication in Bangalore. The atmosphere is very good as is the food. There is also a lit pool for some added décor and vibe. Stay away at night on the ice as you let yourself loose and tap into some of the best DJ music with your friends. Regarding entertaining guests without reservation, don't walk simply because the ice bar is cold. This is one of the best nightclubs in Bangalore, we are naturally talking, seeing all the crowds, reserve your seats and your enjoyment in advance!
Location: Vivanta by Taj, MG Road
Timings: 11:00 AM to 11:30 PM (Sunday to Thursday)
11:00 AM to 12:30 AM (Fridays and Saturdays)
Cost for two: ₹ 2800 (approx.)
5. Loft 38 – Indira Nagar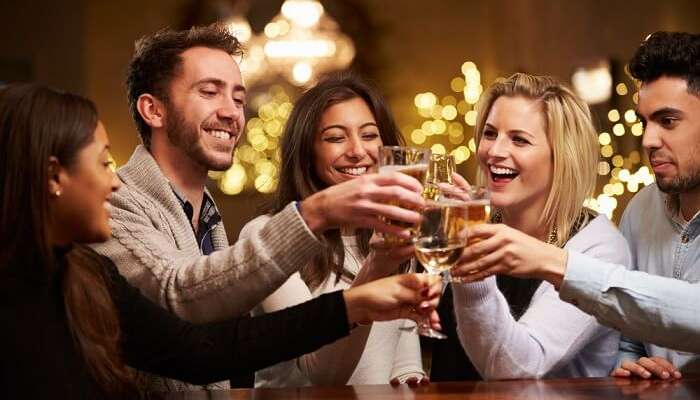 The rustic surroundings make you a perfect place for dancers to step into their true form. Loft 38 is one of the most happening places in Bangalore for dance lovers and also the best nightclub in Bangalore for couples. Look out for groovy music and get tips about your favorite drink in Loft 38 and have fun on some of your captivating continents. , Chinese and Indian dishes. You get a party the moment you enter Loft 38 due to the purple neon bulbs.
Location: Indira Nagar
Timings: 12:30 PM to 11:30 PM (Monday, Wednesday, Thursday, and Sunday)
12:30 PM to 12:30 AM (Tuesday, Friday, and Saturday)
Cost for two: ₹ 2100 (approx.)
6. Vapor Pub And Brewery – Indira Nagar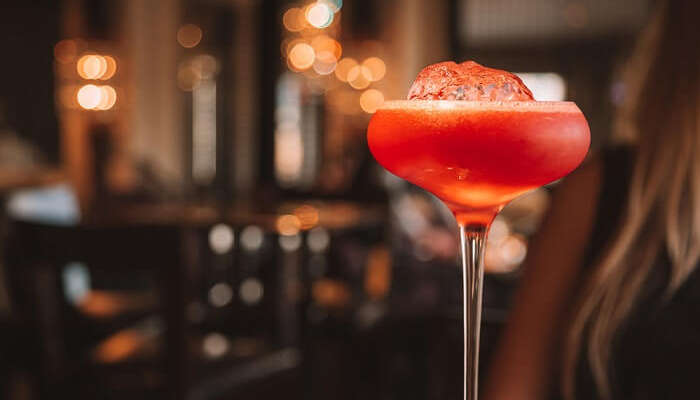 It is an ideal place for a party and one of the most famous nightclubs in Bangalore. Given its popularity and reputation, the club is always crowded, which sometimes leaves newbies out of fear with a long waiting line outside, but it is better not to wait until you are in. Don't reach out and see what a hoarse it is! You will experience a brilliantly handcrafted beer and enjoy a nectar multi-cuisine. The DJ on Vapor is also sure knows how to play music properly.
Location: 773, HAL 2nd Stage, 100 Feet Road, Indiranagar, and Bangalore
Timings: 12 PM to 12:30 AM
Cost: ₹1,400 for two
7. Toit – Indira Nagar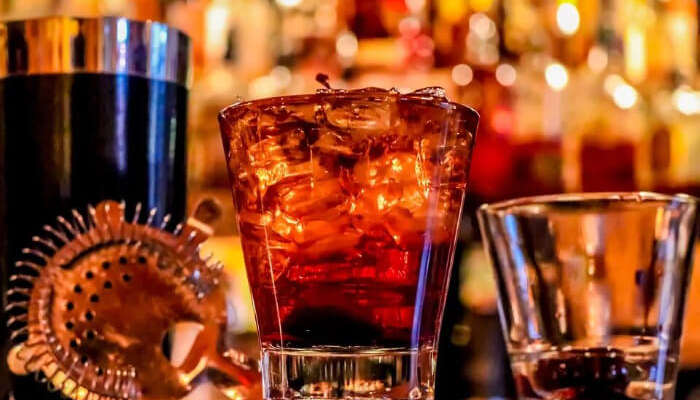 Toit is a brew pub that is one of its kind. If you are someone who makes your brew stronger then this is the club. There is nothing like having one of the six delectable brew drinks on your night that Toit offers. It is one of the nightclubs in Bangalore, with trips to get some real party vibes. When you will be tried what are Basmati Ghori. You should also try ginger-and-cinnamon infused brews that are sold exclusively during Christmas. In this English themed environment, you can take your breath away while walking in this place. Okay, before you order one for the beer, try all the flavors, and that's an added benefit.
Location: 298, 100 Feet Road, Near KFC Restaurant, Indiranagar II Stage, Bengaluru
Price: INR 2000 for two
Open Hours: Monday, Tuesday – 12 PM to 11:30 PM
Wednesday, Thursday, Sunday – 12 PM to 12:30 AM
Friday, Saturday – 12 PM to 1 AM
8. Prost – Koramangala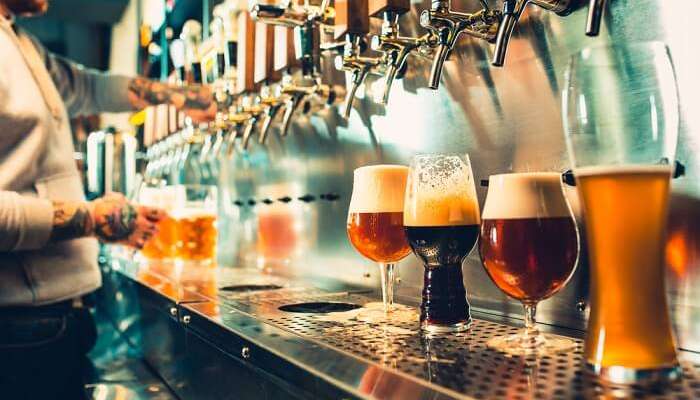 Have you ever imagined being on a wrecked ship and spending time drinking and making mira with your friends? Again, this is a nightclub, which you should definitely visit when you are in Bangalore. Proust is probably one of the most biculous nightclubs you can find in the city. The best part of the pub is the chalkboard on which everything is written. Binge on some delicious pizza with Apple Cider and Hazel Primer Beer. Try these pubs in Bangalore with a dance floor and tap your feet all night with your friends. Life of a pirate for one night!
Location: 749, 10th Main, 80 Feet Road, 4th Block, Near Maharaja Hotel, Koramangala
Cost: INR 1800 for two
Open Hours: 12 PM to 1 AM
9. The Black Rabbit – Indira Nagar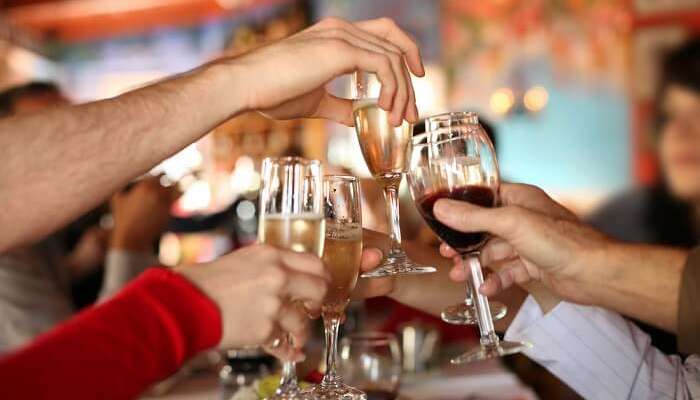 If you are a sucker for something great and rustic, then, Black Rabbit is one of the best places to have some amazing fun all night long. Although all drink lovers miss a microbrewery in the place, they do not disappoint! They have some of the best beer brands and cocktails to offer. You are sure to get gluttonous on smoked salmon and blood orange mimosas as it is one of the best nightclubs in Bangalore.
Location: 770, 12th Main Road, HAL 2nd Stage, Doopanahalli, Indiranagar, Bengaluru
Cost: INR 2000 for two
Open Hours: 12 PM to 11:30 PM
10. The Loveshack – Domlur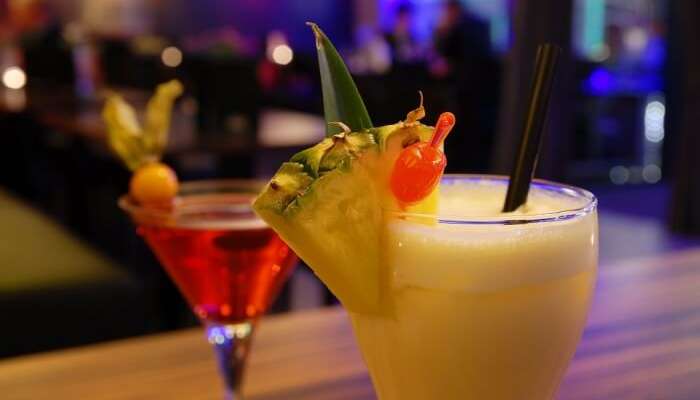 If you want to experience some Govan of Bangalore, this is the nightclub for you! The rooftop bar is a perfect hangout for lovebirds and friends. For a wonderfully romantic night with her BAE, Loveshake is one of the nightclubs in Bangalore for couples. The rhythmic music and cheerful crowd will illuminate the atmosphere even more, and this nightclub is famous for their karaoke nights. Using tippy and groovy at the same time can be a lifetime experience that will be etched into your memories. Set, go, and dance all night to some of the best DJ music in Bengaluru! You are sure to rock in these nightclubs and be prepared to see them again. You can go to other nightclubs with your own discretion, but these are the ten best nightclubs in Bangalore that we have specially selected for you.
Location: 280, Amarjyothi Layout, Opposite DELL, Inner Ring Road, Domlur, Bangalore
Timings: 11:30 AM to 12:30 AM
Cost: ₹1,600 for two
Suggested Read: 20 Offbeat Places Near Bangalore That Cherish Your Weekend Delights In 2021
11. Pebble – Sadashiv Nagar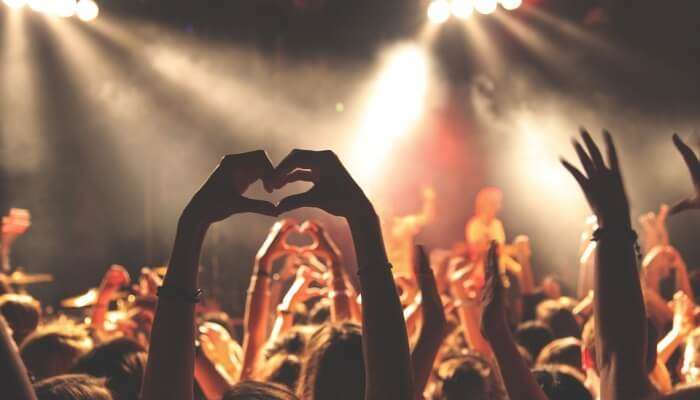 Pebble has recently emerged as one of the most popular nightclubs in Bangalore. They have a special jungle-theme setup with proper seating for large groups. For those who try to eat new cocktails and love to eat, this is a great getaway. Regular DJ night makes you a perfect party time with your friends and loved ones.
Location: 3, Ramana Maharishi Road, Palace Grounds, Sadashiv Nagar, Bangalore
Timings: Throughout the day
Cost: INR 1600
12. XU – Old Airport Road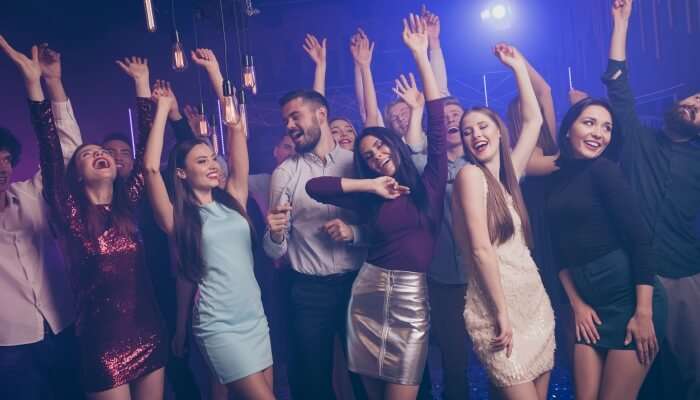 XU, located in the Leela Palace on Old Airport Road, is one of the city's most lavish dining restaurants. Currently, emerging as a hotspot for partygoers, the venue hosts local band performances in addition to regular DJ nights. They serve superb cuisine and the overall experience is truly delightful.
Location: Leela Palace, Old Airport Road, Bangalore
Timings: Throughout the day
Cost: INR 2000
13. High Ultra Lounge – Malleshwaram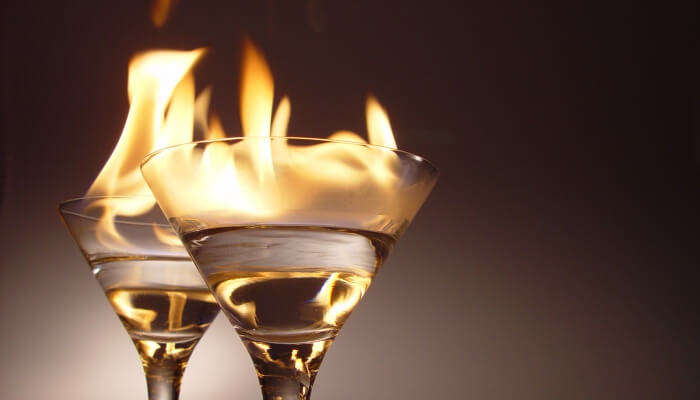 This exciting nightclub in Bangalore is about 430 feet above the ground, offering panoramic views of the surrounding area. It is the tallest lounge in South India and an entertaining getaway for city dwellers! They serve oriental food and many interesting cocktails, which make you love the place.
Location: 26/1, 31st Floor, Dr. Rajkumar Road, World Trade Centre, Brigade Gateway Campus, Malleshwaram, Bangalore
Timings: 12:30pm–1am
Cost: INR 2800
14. Warehouse – Indira Nagar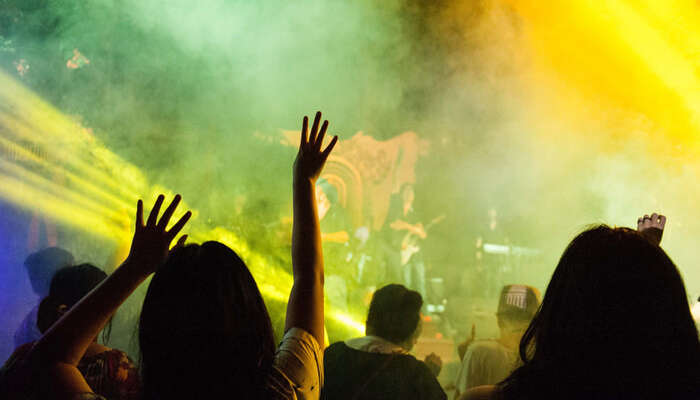 As the name suggests, the place has a classic warehouse atmosphere with a completely separate dance floor and bar, so that visitors can have the best uninterrupted experience. They host the best DJ parties in the city and are frequented by party goers in search of a casual getaway.
Location: 242, Plot 3, 80 Feet Road, Indiranagar, Bangalore
Timings: 3:30 PM – 11:30 PM
Cost: INR 2000
15. The Sugar Factory – Sankey Road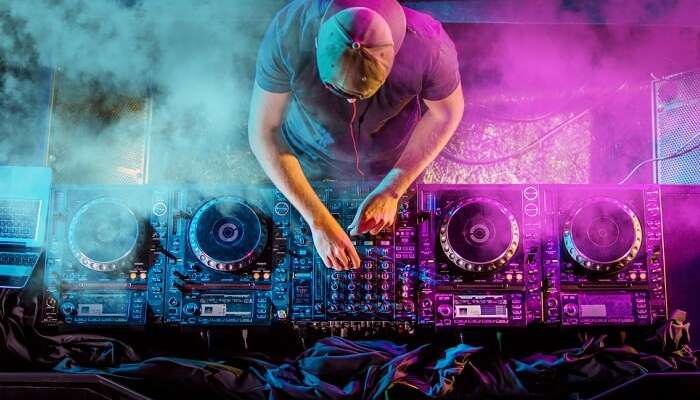 The sugar factory is located in Le Meridien and is a popular place to party in Bangalore. The multi-height metallic chair, vibrant art work on the walls and a cozy atmosphere make it a quick getaway for party goers. They have an open seating area next to the pool for those looking for a romantic dinner with their significant other.
Location: Le Meridien, 28, Sankey Road, Bangalore
Timings: 12:00 PM – 11:30 PM
Cost: INR 2000
16. Happy Brew – Koramangala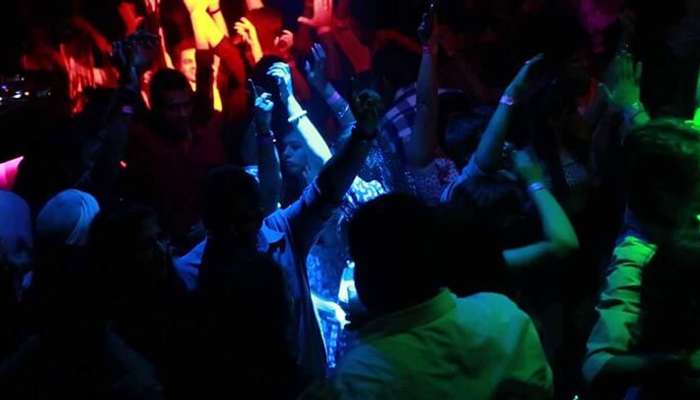 If you love Bollywood music and are looking for a perfect Friday night in Bangalore, then you can visit this brewery. From the latest releases to the classic melodies, DJ adds several twists to give you the experience of walking around with friends and party partners. You can also join in singing karaoke and challenge your friends here.
Location: 40, 4th B Cross, Koramangala 5th Block, Bangalore
Timings: 11:00 AM to 12:00 AM
Cost: INR 1400
so what are you waiting for? Plan a trip to Bangalore and enjoy a party in this vibrant city of Karnataka. Don't forget to visit the above mentioned nightclubs for the best experience. If you are already here, then comment below and share your experience with us!
Frequently Asked Questions about Best Nightclub in Bangalore
Q. Are all these nightclubs open 24/7?
No, on Friday some clubs are open till late night.
Q. Is there a dress code in any of these clubs?
No, there is none!
Q. Do these nightclubs have valet parking?
Yes, some clubs have valet parking options; Otherwise, A. Parking space is available everywhere.
Q. Are there free drinks for women?
A. The decision to give free drinks is left to the discretion of bars and nightclubs.
Q. Which is the best day to visit these clubs?
A. The best day would be the weekend because that is when there are major parties.
Q. Do all these nightclubs have microbreweries?
A. Most nightclubs have a microbrewery attached.
Q. Are there transport facilities for all these nightclubs?
A. Yes, most of these nightclubs are located in prime locations of the city; That's why; There will be no problem with transportation.