Off-Beat Balinese Resorts for a Safe Vacay!
As Indonesian tourism prepares to resume, you will already be dreaming about white beaches, palm trees and the quaint beach of Bali swinging along. What did you hold back then? Get ready to spoil yourself with a lavish holiday at an unconventional Baileys resort. (Don't forget the post-lockdown security measures though.)
Here is the list of the top six off-beat resorts in Bali, filled with luxury and pancakes:
Live your dreams in a jacuzzi against a beautiful sunset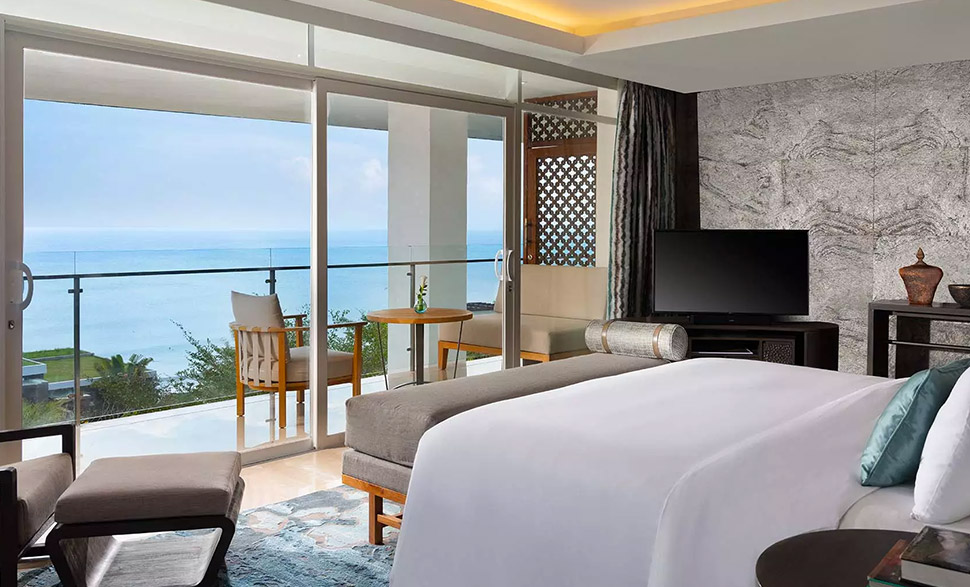 Anantara Uluwatu Bali Resort is your one-stop destination for quality hotel accommodations in Bali. Away from the hustle and bustle of the city, here you can adopt the slow pace of life. Clifttop temples, hidden beaches and experience some of the best surf breaks in the world. You can choose from a wide range of Bali design suites with seamless ocean views or the luxury of a pool. With a dramatic cliff-side on the Indian Ocean, get ready to indulge in the world of flavors offered at Uluwatu restaurants: 360 Roof Top, Botol Biru Bar & Grill, Sono Tipanaki and many more. Relax in the Jacuzzi against a panorama of the sunset. Take some time to ride the waves of the famous Impossible Beach below.
Laze Around in the Lush Green Balinese Gardens
If you plan a trip to Bali completely and relax in a luxury five-star resort that is steeped in Bali's rich heritage, art and culture, Padma Resort Ubud will not disappoint you. With a landscape of 6.8 hectares, the property has lush green gardens, tropical greenery, water features, swimming pools and spectacular natural art. You will live in a Bali-inspired accommodation supported by world-class facilities, event venues and warm hospitality. Witness the most beautiful sunsets, nightlife entertainment, restaurants and boutique shops during your stay. Tickle your taste with a wide range of 'Theme Buffet Dinners'. You can also choose from more than seven types of restaurants to dine with.
Soak in the Elegance of This Striking Beach Resort
Sambé immersed in charm, elegance and quality through a combination of modern and Bali in Bali Suites and Villas. The property hosts 81 luxury suites and villas, each with spectacular views of the Indian Ocean. Relax in an 8-hectare luxury cliff top land near Nusa Dua, the southern end of Bali. Swing around the breathtaking private beach with your loved ones and spoil them with one final experience and comfort. You can have late dinner around the white sandy beach and naturally built caves. Start your day with a perfect breakfast in a high tea experience inside the beach cave. Later, hit the middle bar for a drinking session. Known as a digestible dining venue with a 4-course set menu, it ends its day at a fictional dining venue.
Experience an Adventurous Camping Amidst the Lush Green Forests
Enjoy early 1800s European inspired architecture, a sense of adventure designed by Bill Bensley. The property is covered with lush green forests and unique tented campuses in harmony with the surrounding nature. Capella Ubud has implemented all prevention policies and procedures recommended by WHO and CDC, including mandatory temperature checks and health announcements for the arrival of all suppliers and guests. Soak yourself in a private pool when you enjoy exceptionally personalized service and want to shake your heart with extraordinary experiences. Surprise your taste buds with traditional flavors influenced by the forest setting and local heritage.
Bali  Dance Your Nights out in an Iconic Sanctuary in the White Sands
Seminac lives near the Balinese coast of the beach which is home to sun, sea and surf. The island is blessed with a prime stretch of golden sand adjoining the prettiest shops and Asia's most stylish nightlife, the irreversible beginning of establishing this iconic sanctuary in the sand. The property is surrounded with modern architecture and waving coconut palms. The stunning sunset will enhance your memories, which is inside all 67 deemed suites, and The Beach House on the Indian Ocean. You can choose from beach views and tropical hideaway for your overseas stay. If you are a poetic bachelor and want pure time alone, stay across the street in 14 intimate pool villas, where individual butlers enjoy humble for the extraordinary amenities of Lez Bali.
View a Beautiful Live Volcano While Dipping in a Clear Blue Pool
Take a relaxing getaway in the stunning traditional 2-bedroom villa built by the Sideman royal family in the village of Sidmen, surrounded by pure nature, classic villages and a spectacular view of the active volcano (Bali's holiest mountain) Gunung Agung.
The rooms are cozy and cozy with enchanting views to infinity. The Romantic Master Sweet Honeymoon is perfect for a couple or who pamper themselves with ideas. Imagine living in a place with an excellent view of the magnificent landscape on the outside, and inside where you can admire the beautiful pictures. This room boasts a jacuzzi with a view of ultimate comfort and a relaxing view in an atmosphere of orchid flowers. Enjoy an alfresco-style romantic dinner at your kind wood dining table.
Outside your villa is a tropical garden with exotic plants and trees with beautiful flowers and a green grass lawn leading to the breath-taking 14-meter infinity pool with hand-sculpted statues on its sides.
Travelers worldwide book a stay in this exotic villa and click around to see the very famous live volcano Gunung Agung, Bali's highest point.
Are your feet and passenger spirit already tingling? Then go ahead and book an extraordinary holiday to Bali.