Parvati Valley - Top Places to Visit in 2021
Parvati Valley, in the Kullu district of Himachal Pradesh, is known by young Indians and international travelers for its psychedelic trance festivals, hippie cafes and quality hashes grown in its villages (although it is illegal in India). The scenery is stunning too. It has high Himalayan peaks, lush green forests, dazzling rivers and waterfalls, all of which are a fearless playground for trekking, camping and rock-climbing.
To make the most of your trip, travel from June to June or October and November when the temperature is a pleasant 60F or so. Avoid the monsoon season from July to September, as landslides occur frequently. To stay, you will find comfortable hotels, hostels, homestays, and guesthouses in all price categories. Except for Kasol and Manikaran, remote areas of the valley do not have ATMs, so be sure to carry enough cash. Power outages are a common occurrence, so you want to carry a power bank and a flashlight.
Descending into this Himalayan valley is not as difficult as in other remote valleys of North India. Fly to Kullu-Manali Airport in Bhuntar, and you will be in Kasol in about an hour by taxi. Alternatively, you can reach here by train. The nearest railway station is Joginder Nagar. From there take a bus or taxi to Parvati valley. However, the easiest way to travel to the valley is to board the Volvo bus from Delhi to Manali and get off at Bhuntar. From there take another bus or taxi to your intended destination in Parvati valley.
Parvati Valley|Top places to visit
Kasol, Parvati Valley
Situated on the banks of the Parvati River, Kasol, the Parvati Valley has a well-established reputation as a regularly established hippie center, with music cafes and bhajan ceremonies held regularly. It is particularly popular among Israeli travelers who have now settled in the region. Aptly, the village is also known as the "Mini Israel of India". Be sure to sample local cuisine including Israeli food at the cafe.
If you are feeling energetic and energetic for adventure, there are several treks around the village that offer amazing views of the natural landscape. If you are gentle, check the surrounding villages. If you are looking for a challenging venture, go for multi-day treks like Chandrakhani Pass and Sir Pass; The latter also provides rock-climbing opportunities.
Grahan, Parvati Valley
Situated above the popular Kassol, you will find a relatively peaceful village of Grahan, made of traditional wooden houses, which perfectly suits the natural landscape. The village can be reached only by walking from Kasol. It takes about four hours to get there, and the friendly locals are happy to show off their unexpected wonderland. In the middle of the village is the historic temple of the village deity; Be sure to get permission from local people before entering. Additionally, Gran's food is prepared from local ingredients, which is one of the best gastronomic experiences for you in the valley. Be sure to check out the local specialty, their mountain-grown honey before leaving.
Tosh, Parvati Valley
Tosh is located at a height of 7,900 feet on a hill near Kasol. The trek to this village is as difficult or as easy as you choose; Many enthusiasts go to the village, but taxis are available from Kasol which will take you away from the village in an hour. Stroll through lush green pastures and apple fields, do birdwatching and taste Indian and Israeli food at the hippie café. Of course, being active is also on the agenda, with beautiful hiking routes through the mountains surrounding it.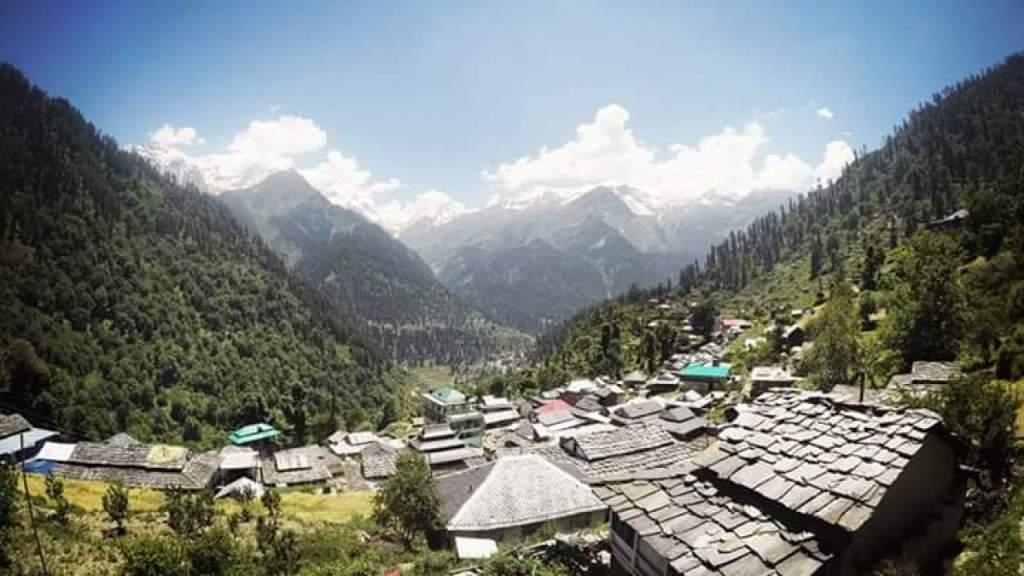 Manikaran, Parvati Valley
Manikaran is located about 2.5 miles east of Kasol and is easily accessible via bus. In addition to the amazing views of the surrounding Harinder mountains and short treks to fulfill your need for adventure, Manikaran also offers spiritual charm. The most visited Gurudwara among the tourists is Sri Manikaran Sahib, a Sikh house known for its mineral-rich hot springs and langar (community food). The Shiva temple located near the gurudwara is also a must visit, as are the 17th-century Lord Ram Chandraji temple and the wood-built Naina Bhagwati temple.
Malana, Parvati Valley
Malana is a secluded village where locals practice extreme untouchability, believing that they are descended from Alexander the Great, and that the law and language are completely different from the rest of the country. This nexus is a draw in itself, but many people come for it which is a locally developed hash cream called Malana Cream which is probably considered the best in India. The village is surrounded by Dev Tibba and Chandrakhani peaks, and offers a picturesque quality. To get here, hire a taxi from Kasol to Malana Gate, then walk a mile or two from there, cross the bridge over the Malana River and then follow the picturesque river route to the village.
In addition, the Wechin Valley is located. Traveling to Malana village as a day trip is easy, good walks, good food and some excellent accommodation means it is worth an overnight stay.
Kheerganga, Parvati Valley
Kheerganga can be reached from Barshaini via a relatively moderate and natural four to five hour trek, which is about 10 miles from Kasol. You can either take a taxi or a bus from Kasol to Barshaini. The journey from Barshaini to Kheerganga will take you through dense forests, calm rivers and into old villages. You will also come across a calm waterfall, where you can stop and rest.
Once you get there, not only will you be rewarded with an ethereal view of the surrounding landscape, but you will also be able to dive into the natural hot springs at the top. There are separate bathrooms for men and women. There is also an ancient Shiva temple and a cave, which are worth seeing. Although it is possible to take a day trip, it is worth soaking the night camp in the beautiful sunset and the crisp mountain air.