Yoga Retreats In Goa That Will Let You Be In Touch With The Spiritual Realm
The coastal paradise and the smallest state in India is famous for its nightlife, food and beautiful beaches and one of the safest places in India. Under Portuguese rule for a very long time, Goa is an amalgamation of European and Indian culture and is very beautiful. Goa means beaches, water sports, partying until the wee hours and lots of fun. But after many nights of exploring and partying one day, when you find yourself feeling relaxed and pampered, it is that you can check out the Yoga Retreat in Goa and the grandeur and charm of these places and activities. Will definitely attract you.
10 Best Yoga Retreats In Goa
Goa is home to many yoga retreats where you can just go and enjoy yoga here or plan to stay for a day or two and connect with nature and your soul and get separated from the world and yourself Can be one with Here is the list of 10 best yoga retreats in Goa, India.
Post Covid Travel Guide To Goa
Guides that help us travel your passion and secure your priority on a risk-free vacation.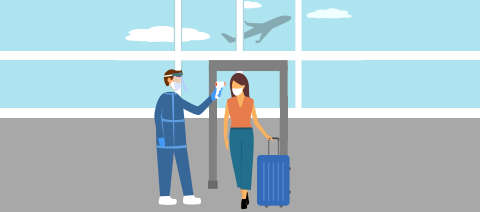 Entry/Exit Info
There is no restriction on interstate travel in Goa.
All domestic and international airports are operational.
Covid-19 test report is not required to enter the state.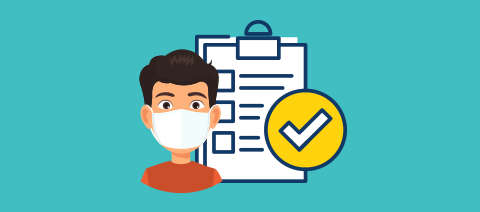 Covid-19 Guidelines
All domestic and incoming travelers must undergo thermal screening.
Asymptomatic travelers will be allowed to travel without undergoing any test.
Symptomic travelers will need to take a PCR test and stay in isolation if needed.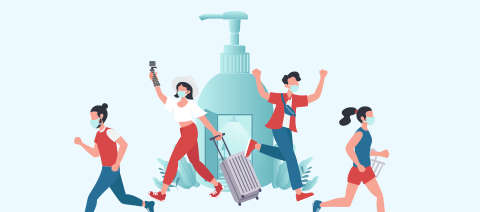 Permitted Activities
Casions are operating at a 50% capacity.
Beach shacks are open for serving customers at full capacity.
The Baga-Calangute beach belt is now open for travelers.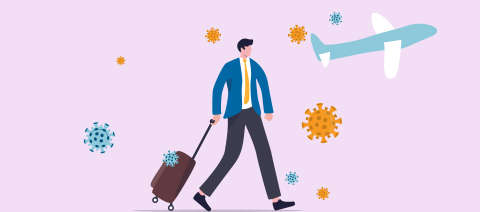 Transportation
Air transportation remains open for domestic flights to and from Goa.
Services like Ola and Uber might also be available depending upon your final destination.
Domestic buses are operating on normal routes but at a limited capacity.
1. Kranti Yoga Village Beach Resort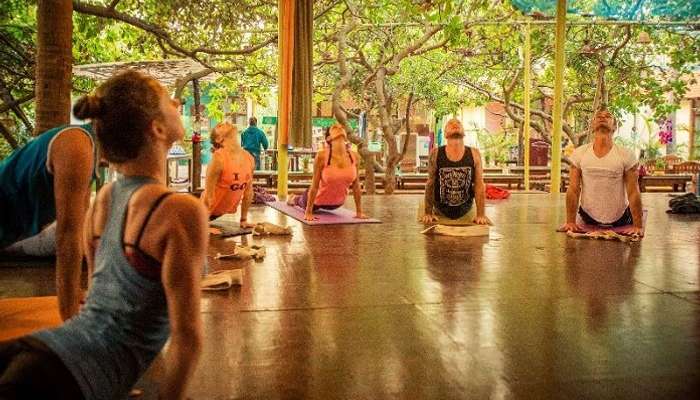 If there is a Yoga in Goa that offers luxury and yoga training then it is Kranti Yoga Village Beach Resort. Located on Patnim Beach, this Yoga Village Beach Resort offers 100 to 500 hours of Yoga teacher training courses called Ashtanga Vinayasa Pravah Yoga and Yoga Vacation. But that is not all. This yoga resort also offers optional activities during the evening including yoga films and candlelight.
Location: Kranti Yoga Beach Resort House No 135 Patnem Beach, Palolem, Canacona, Goa 403702, India
2. The Beach House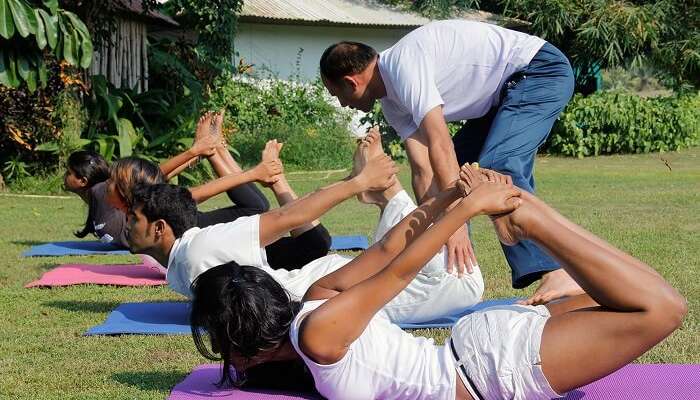 Located in a secluded spot on the Sernabatim beach, it is one of the most peaceful and unique yoga in Goa, India and was founded by a former pharmacist and is an absolute bliss. A magical confluence of traditions and new age technology, The Beach House is the best place to relax and rejuvenate. This retreat provides holistic and medical treatment and solutions to all your health related issues.
Location: Sernabatim Beach Road, Colva, Margao, Goa 403708
3. Bamboo Yoga Retreat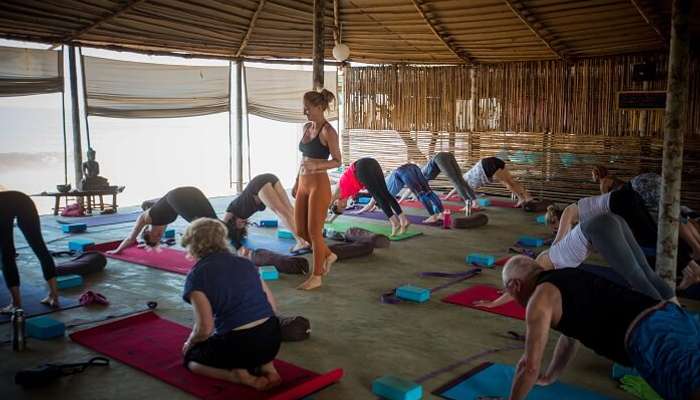 Formerly, the Lotus Yoga Retreat, this yoga retreat has been kept out of the bustle and is one of the best yoga retreats in Goa 2021. This place is ideal for those who just want to disconnect and stay in touch and in sync with the world. With reality. There are several restaurants and cafes around the place that offer some great delights and offer both a spa area for massage and three and yogasanas as well as intensive yoga retreats and yoga holidays.
Location: Patnem Beach, Palolem, Canacona, Goa 403702, India
Suggested Read: BEST HOTELS OF GOA TO STAY !!
4. Little Cove Yoga Holiday Retreat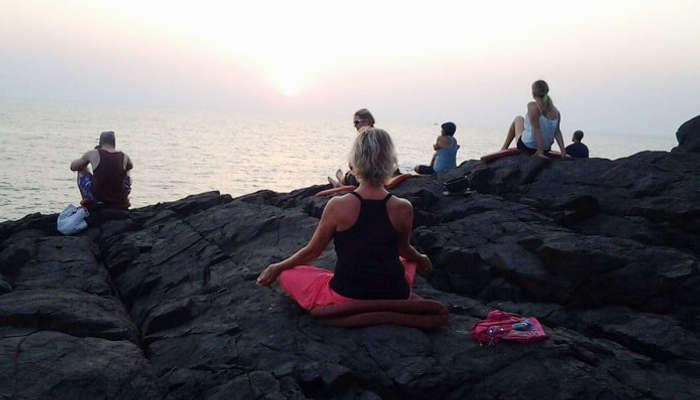 If one of the many yogas that still maintain its grandeur and name is the Little Cove Yoga Holiday Retreat. Located on a secluded beach called Kola Beach, it is run by a yoga retreat and was founded by an Indian yogi, who holds a diploma in Naturopathy and Ashtanga Yoga. The retreat offers vegetarian food and also has free cooking classes that you can adopt.
Location: Little Cola beach, Canacona, Goa 403702, India
5. Ashiyana Yoga Resort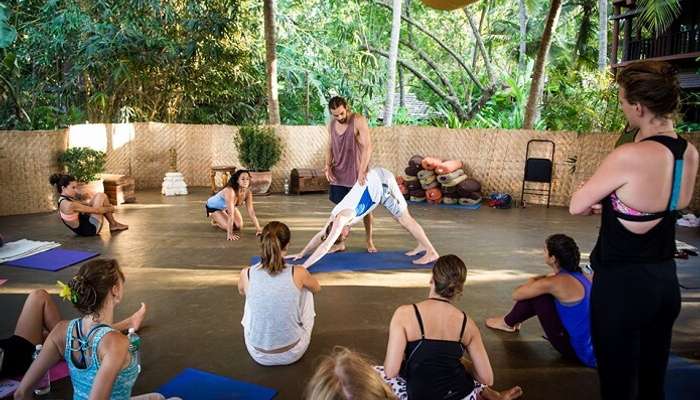 Image Source
When translated, Aashiana means 'home' and you will feel at home behind this yoga in Goa. The resort of Ashiana Yoga was born when rejuvenation and detox joined hands. One of the most attractive yoga ashrams in Goa, India, Ashiana Yoga Resort offers a Turkish sauna, six treatment rooms and a spa. Not only this, the Yoga site also offers panoramic views. Rooms here range from seaside huts (budget) to Riverside (luxury) and you should plan your stay to stay close to nature.
Location: Junas Waddo, Mandrem, Goa 403527, India
6. SWAN Yoga Retreat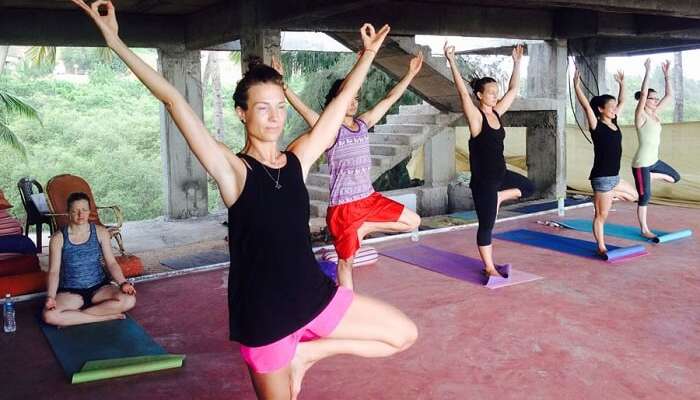 If you want to know what a yoga ashram looks like in Goa, then SWAN Yoga Retreat is the place for you. Following and preaching the teachings of Paramahamsa Swami Satyananda Saraswati, this yoga is unique and very special because here yogis not only learn yoga but also perform puja, kirtan, yogic rituals, mantras and sacred tantric fire rituals. Apart from this the rooms of this yoga retreat are budget friendly yet luxurious.
Location: 101/4 Bairo Alto, Assagao Bardez, Assagao, Goa 403507
Suggested Read: Amazing Shacks in Goa
7. The Mandala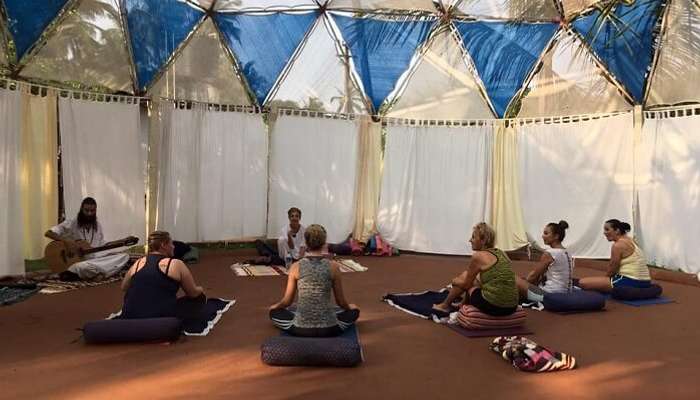 Situated right next to Mandrem Beach, Mandla is a yoga place and has a wide range of accommodations and here you can enjoy organic food, juice and two yoga classes everyday. Here you can not only be a part of yoga, but also enjoy the luxurious atmosphere and enjoy delicious food.
Location: The Mandala, Mandrem, Goa 403527
8. Vedic Valley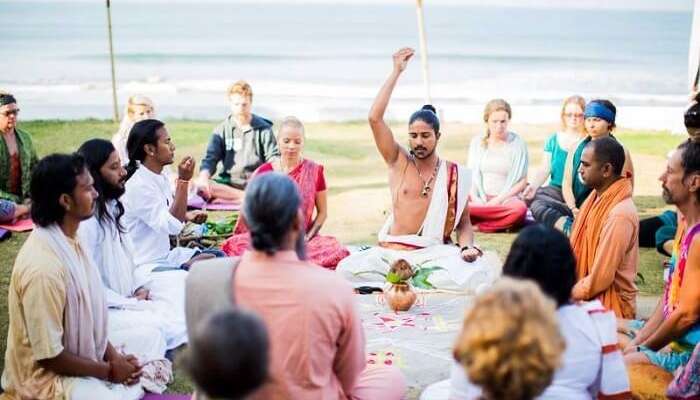 If lush exotic forests and ancient yoga practices excite you, then the Vedic valley is for you. It is one of the most attractive yoga retreats in Goa and offers many different types of accommodation, ranging from Bamboo Cottage to Eco Lodges and here you can enjoy some very unique Ayurvedic cuisine and of course Are delicious.
Location: 770, New Wada, Morjim, Goa 403512
9. Yoga Magic Eco Retreat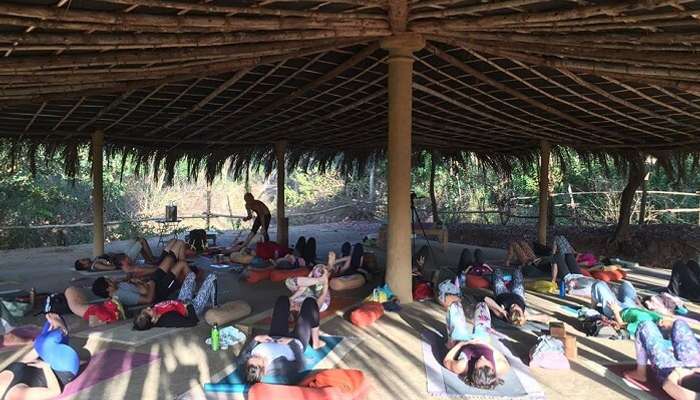 Beach yoga anyone? It is one of the best yoga in Goa, India and if you want an unprecedented and amazing experience then you should be here. Featuring around 15 rooms and offering not just yoga but also wellness programs, this yoga retreat in Goa is nothing short of a magical and spectacular experience.
Location: 1586/1, Grand Chinvar, Bardez, Anjuna, Goa 403509, India
10. Yoga Gypsys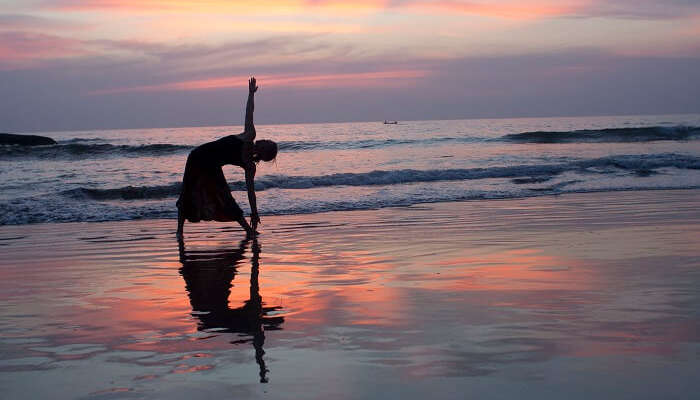 Located on the famous Ashwamedha beach, 'Yoga Gypsy' is a unique yoga practice that offers recreational activities and "Hatha Yoga classes" are held here daily. The unusual name of the place is something that attracts tourists and it is one of the best yoga in Goa 2021 which offers different types of accommodation.
Location: Yoga Gypsys, Ashwem Beach, Goa
Suggested Read: The Best Drinks In Goa
With this we end. These yoga practices in Goa provide some of the best and most delightful experiences. If you want to get in touch with the spiritual realm then know where you should be. And even if you just want to disconnect from the world and rejuvenate, this yoga is the best way to retreat. If you can't stop imagining how exciting it is going to be, then we say it will be beyond your imagination. So, we say pack your bags, check out these customization options for your trip to Goa, make a plan and get going!